Testing BTLD drivers
The layout of the filesystem on a BTLD disk is shown in ``Layout of a BTLD disk''. Note that a particular driver may not need all the driver files that are shown here (for example, it may not need Space.c and Space.o).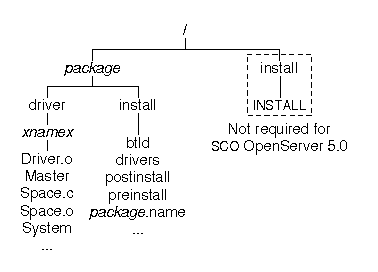 Layout of a BTLD disk
The package name is usually the same as xnamex, the driver's internal name, if the package includes only one driver. The names will be different if several drivers are included in the same package.
This is the minimum configuration needed to test boot-time loading of a driver. The filesystem type must be AFS in order that boot and link can read it.
In SCO OpenServer 5 Release 5, this layout will not allow the driver to be installed using custom but it will allow installation using installpkg as in previous releases. For details of how to package BTLD drivers for SCO OpenServer 5 Release 5, see ``Packaging SCO OpenServer 5 drivers for installation''.
---
© 2005 The SCO Group, Inc. All rights reserved.